Description

Welcome Melbit Maker!  We're excited to announce the Melbits POD, a magical device with physical sensors to nurture, evolve and hatch your new family of digital pixies. The POD is a seamless experience that moves away from the screen and to the real world in the blink of an eye. Let the screen become not a barrier but a portal, to learn by playing, to foster positive digital habits and use your brain to solve ingenious evolution puzzles in the real world! It's a Virtual Pet (R)evolution!
You don't know what they look like until they hatch!

In a world in which screens often separate us from each other we wanted to use screens as portals; Portals to encourage you to play in the real world, with the sun on your face and away from the couch. We wanted to create a flow between worlds, a seamless experience, a magical ecosystem to breed your new family.
Melbits Pod is an experience for all ages. For the little ones it helps balancing screen time while becoming physically active in a world of imagination. A new take on STREAM Toys focusing on soft skills: Creative Problem Solving, Imaginative Learning and  Empathy Development. The POD is designed to bring back the joy of playing in/with your surroundings, creating a positive relationship with technology.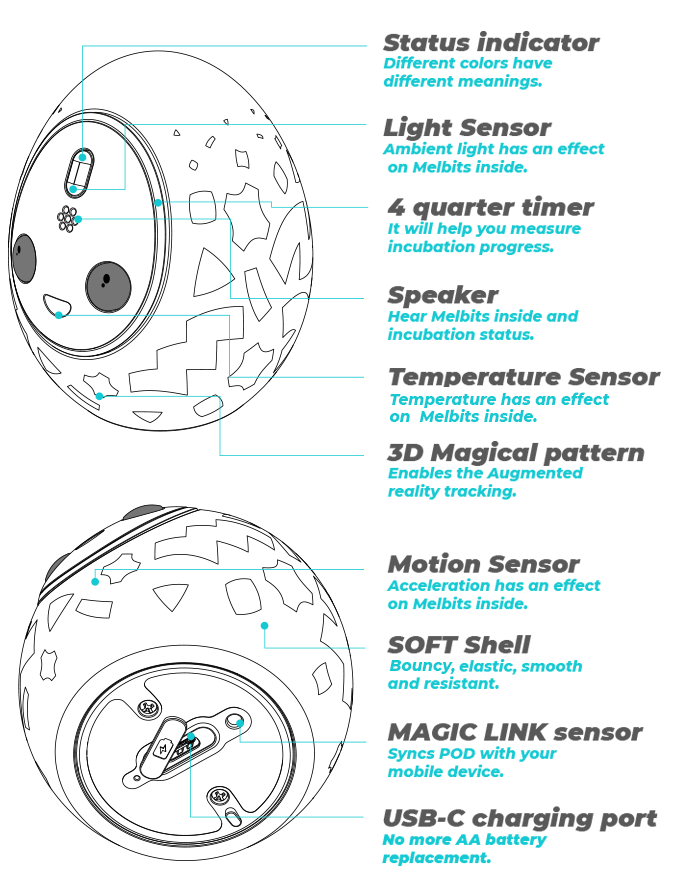 We are proud to have designed a gadget that combines coltan-free, ethically sourced electronics, safe, recyclable materials and a shock-resistant, durable casing.